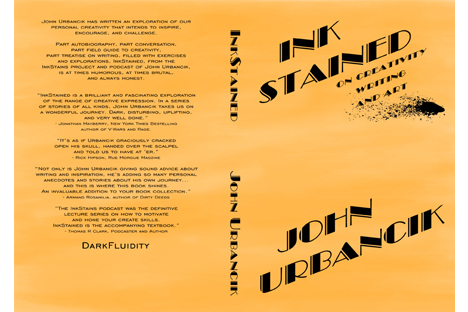 available now at Amazon and other fine booksellers!
~~~
First, it was a year-long daily project, in which John Urbancik wrote a fresh and complete story, by hand, every day for a year.
He did this three times.
Then, it was a podcast, in which he talked about the process of creating the InkStains project, creating in general, and often writing in particular.
Now, it's a book collecting all the best of what John Urbancik discussed on the project, sharing the insights of a 20+ year career as a writer.
~~~
John Urbancik has written an exploration of our personal creativity that intends to inspire, encourage, and challenge.Part autobiography, part conversation, part field guide to creativity, part treatise on writing, filled with exercises and explorations, InkStained, from the InkStains project and podcast of John Urbancik, is at times humorous, at times brutal, and always honest.
"InkStained is a brilliant and fascinating exploration of the range of creative expression. In a series of stories of all kinds, John Urbancik takes us on a wonderful journey. Dark, disturbing, uplifting, and very well done."- Jonathan Maberry, New York Times Bestelling author of V-Wars and Rage.
"It's as if Urbancik graciously cracked open his skull, handed over the scalpel and told us to have at 'er."- Rick Hipson, Rue Morgue Magzine
"Not only is John Urbancik giving sound advice about writing and inspiration, he's adding so many personal anecdotes and stories about his own journey…and this is where this book shines. An invaluable addition to your book collection."- Armand Rosamilia, author of Dirty Deeds
"The InkStains podcast was the definitive lecture series on how to motivate and hone your create skills.InkStained is the accompanying textbook."- Thomas R Clark, Podcaster and Author